Key Takeaways
| Aspect | Description |
| --- | --- |
| Calendar Views | While the Material View is the default when getting started, many users don't explore PlantDemand's other calendar views |
| Important Custom Order Fields | Your order form can have fields that are important to your plant and business. Select important fields to show on your calendar for quick reference |
| No Mix Designs for Input Forecasts | You can schedule your plant just with output material names in PlantDemand, but if you don't put in your mixes, you're missing out on a huge benefit. |
| Multi-Day Orders | Some users at first will enter orders one at a time. If a job is going over multiple days, you can link the orders together and save yourself a ton of time. |
| Incoming RAP Grindings and Rubble | Large mill and fill or overlay projects that have grindings coming to you can be scheduled too by copying an order and setting up a material for Incoming Grindings or Rubble. |
| Involve Your Customers | Create different customer portals for your customers to allow them to be involved and informed with your plant schedules. |
| Where is your team? | If you've created a plant schedule, and don't invite your team, you need to. |
| Asphalt iOS & Android App | Download the app on your phone or tablet for a lite version of PlantDemand. |
Introduction
Asphalt plant scheduling is a complex process involving various tasks and challenges. Proper scheduling is crucial for the smooth operation of Hot Mix Asphalt (HMA) plants. However, several common mistakes can hinder this process, leading to inefficiencies and increased costs. In this article, we will go over several of the most seen mistakes (or really missed value) by newer PlantDemand users.
Understanding the Role of PlantDemand
PlantDemand is a specialized software that helps in scheduling and planning for asphalt, concrete, and aggregate plants. It offers features like visual order calendars, inventory forecasts, and a secure customer order portal, which are essential for efficient plant operation​​​​.
Common Mistakes in Asphalt Plant Scheduling
Calendar Views
While the Material View is the default when getting started with PlantDemand, many users don't explore other calendar views available. These alternative views can offer deeper insights and a more comprehensive overview of the plant's operations and scheduling. Try switching views to see if you find one more useful than another. Or switch to List View if trying to find orders that are over multiple months.
Solutions:
Go to the top of the calendar, and select the dropdown under Order View. Explore each view to find one that works for you
Below is the minimal view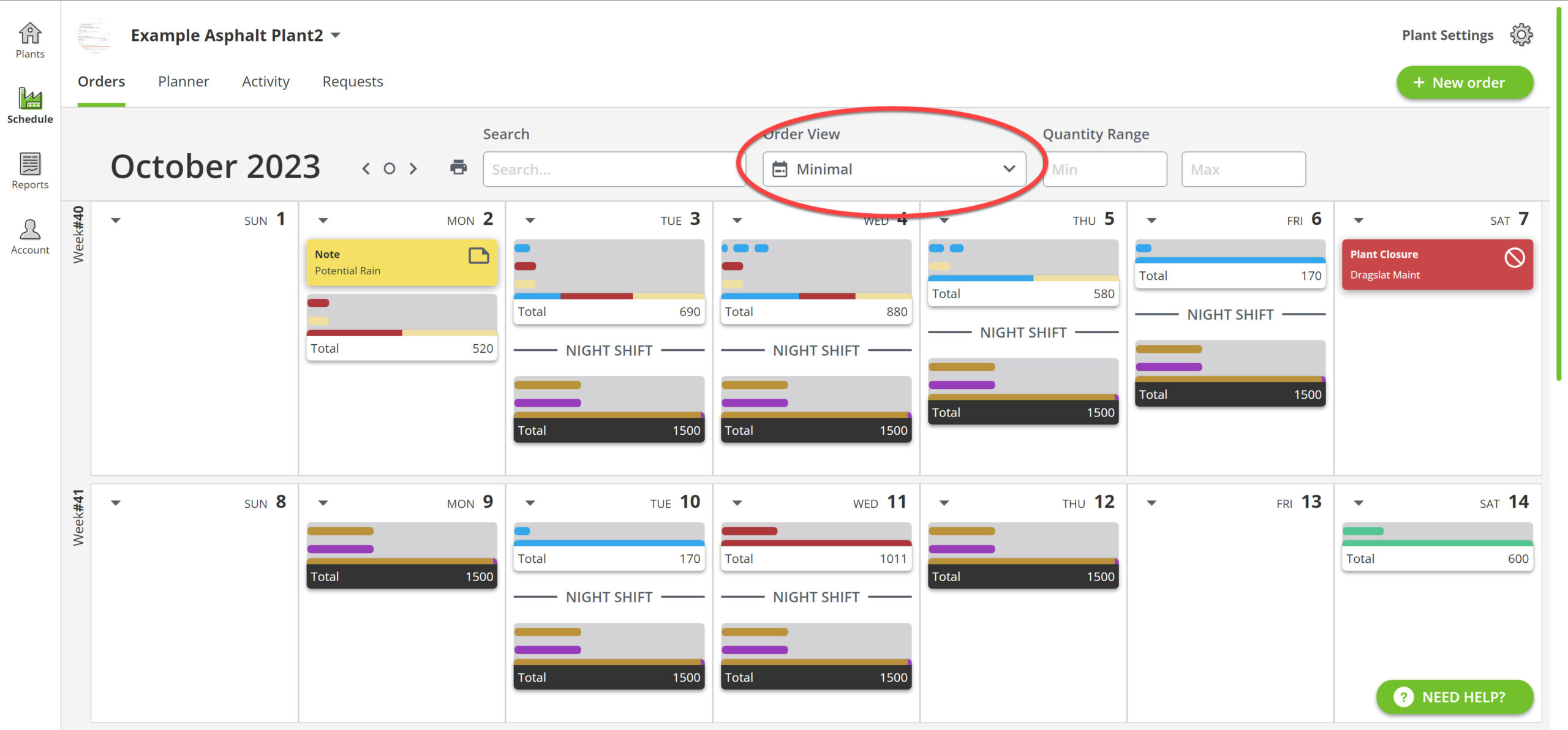 If you hover over an order, you can see the product, customer and quantity. The colors represent the different asphalt mixes or aggregates for quarries, and the size of the bar is a relative quantity of the order. This is a great view for seeing a monthly high level snapshot of how busy your plant will be.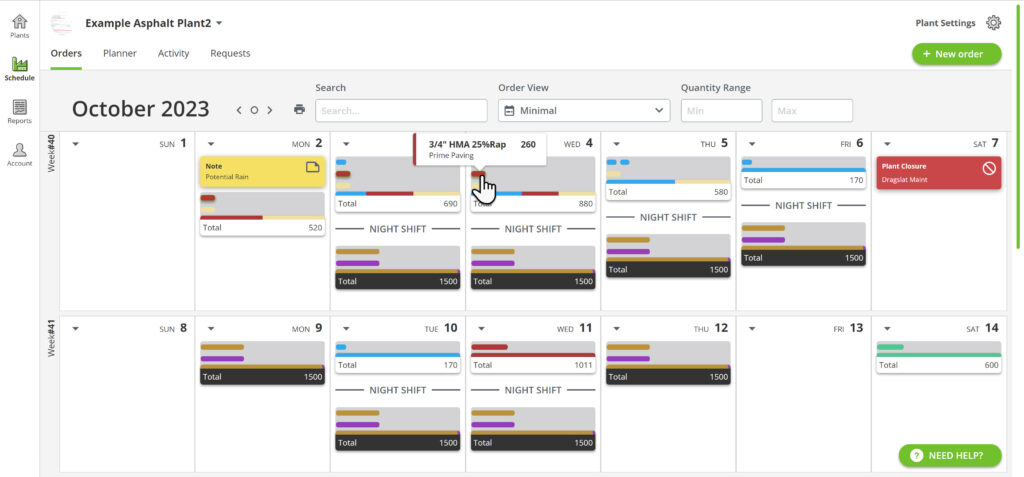 To try different views, like the Material view. Here, orders are grouped by material and then by customer.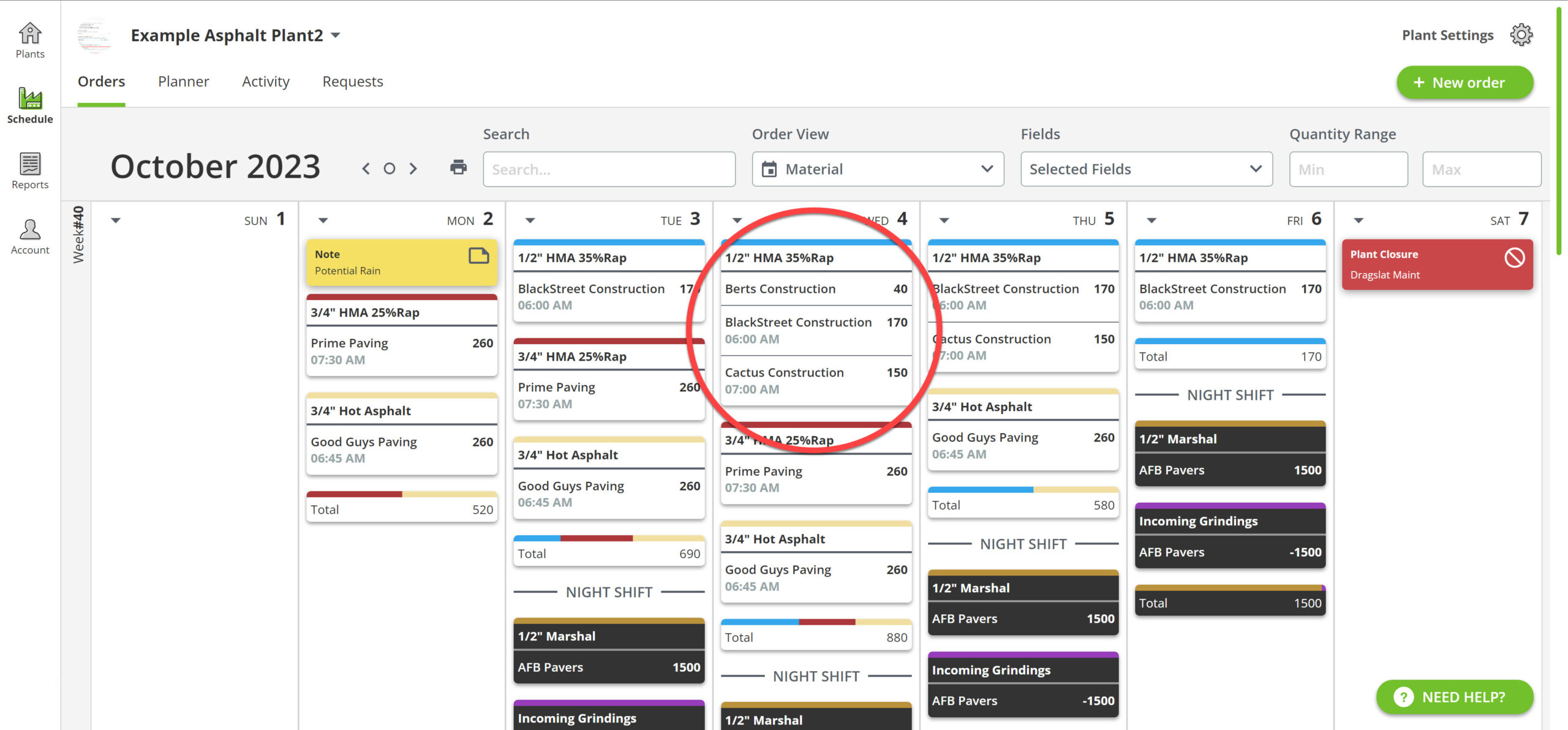 Important Custom Order Fields
Your order form in PlantDemand can include fields that are crucial to your plant and business. Selecting important fields to show on your calendar provides quick reference and helps in making informed decisions promptly. Make sure you go to the top of your calendar, and select the fields that are most important to your role so that they show on the calendar orders for quicker reference.
Don't see what you want? Select the Fields dropdown to choose important fields for you to see on your calendar.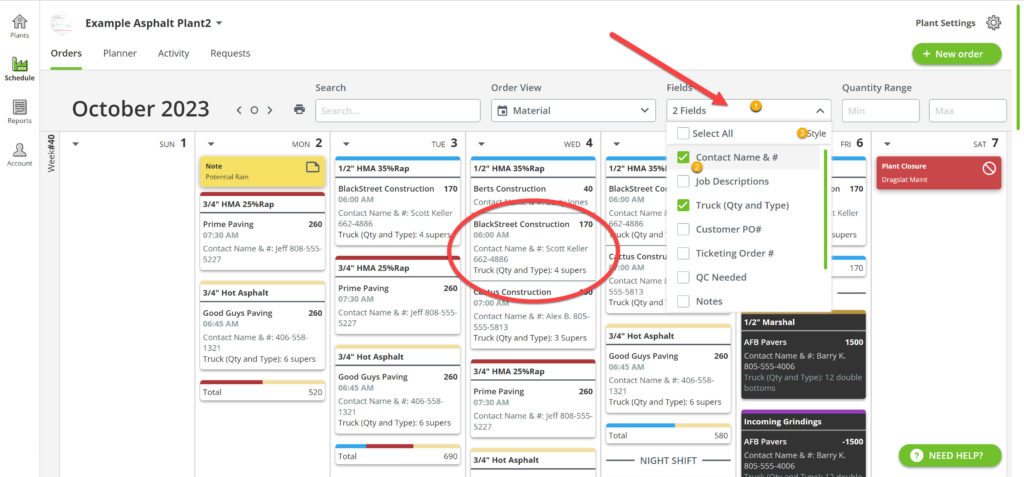 Click the Style button in the upper right of the Fields dropdown to choose different text color and styling for specific fields to help you find things more quickly.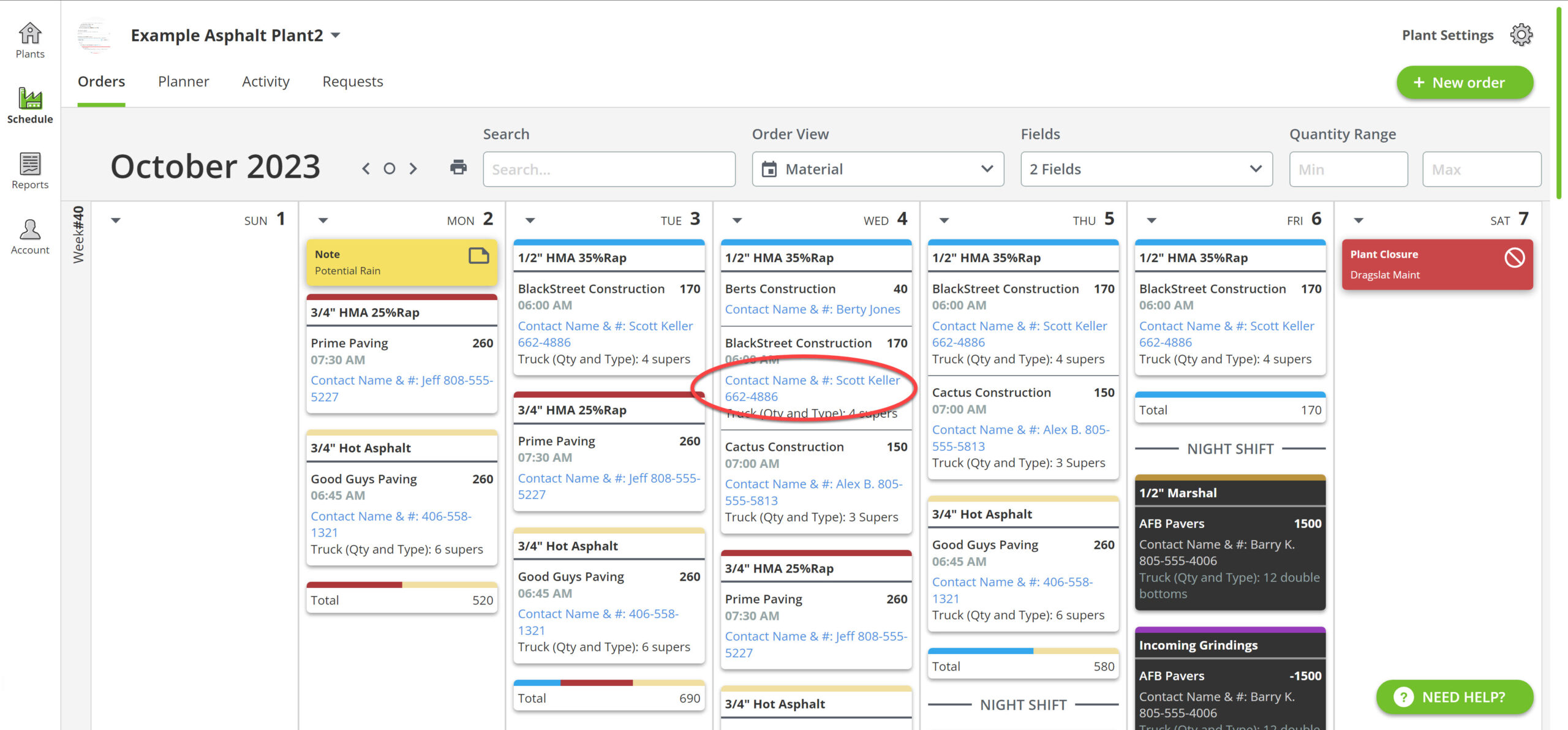 No Mix Designs for Input Forecasts
In PlantDemand, scheduling your plant with just output material names is possible, but not including your mixes means missing out on a significant benefit. Incorporating mix designs can lead to more accurate and efficient planning. These feed your daily input material needs to help you schedule your oil/bitumen loads, or so you can look out at your agg piles and plan if you need any more. Also, these feed the Input Forecast report for long term raw material planning. When you setup your input materials, make sure to add your supplier. You can share your asphalt plant's material needs with the quarry, refinery, or additive supplier periodically to help them know what they will need to have on hand for you.
If you click on a date, and then on View Input Materials for a day where there are orders, and you don't see any input materials — you need to add or update your mix designs in PlantDemand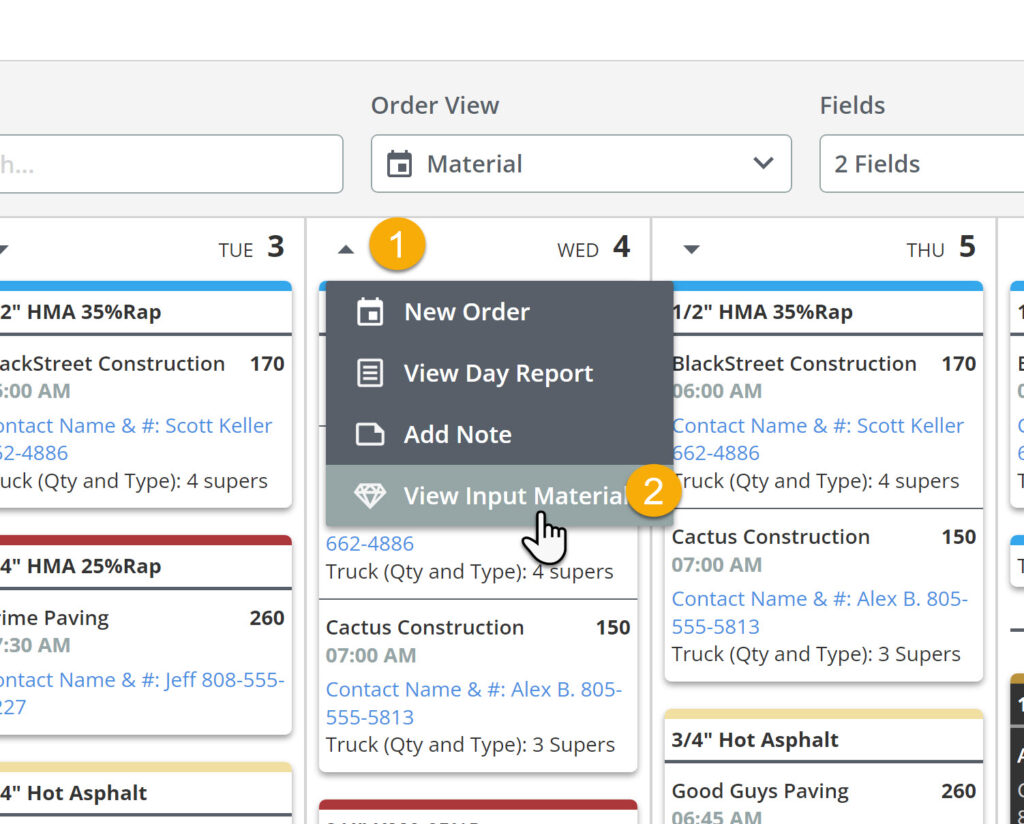 An input forecast for a day shows you the product you need, the supplier and the quantity to meet the needs for the day. This is based on the planned sales quantity and the mix designs.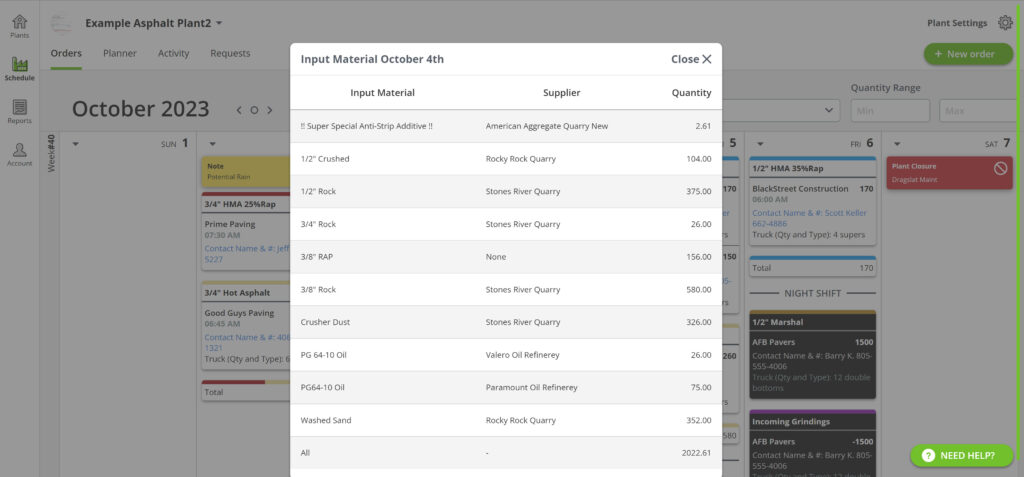 Multi-Day Orders
Initially, some users may enter orders one at a time. However, for jobs that span multiple days, linking the orders together in PlantDemand can save a considerable amount of time and effort. This will save you from having to enter the same order data over and over. Instead, you can click the Add Date button and simply add more days, adjust the quantities or load time if they vary by day, and click save!
Hovering over an order with multiple days will highlight all of the days for that order.

Clicking the Add Dates button will copy down the quantity, and auto-assign the next day as the delivery date. Careful! We made it so that weekends are skipped based on user feedback. To change a date to a Saturday or Sunday, click on the date box and pick the correct date.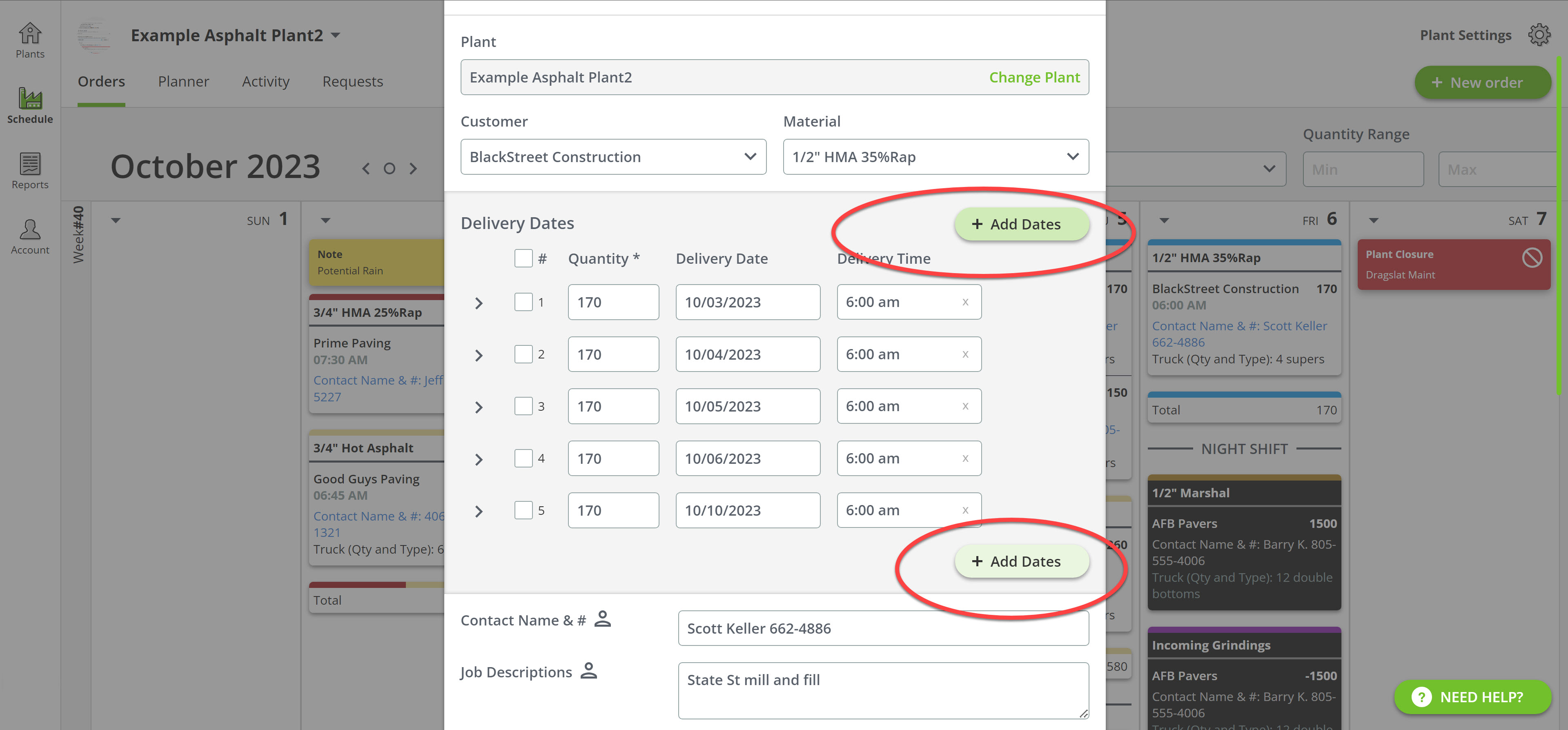 Incoming RAP Grindings and Rubble
Large mill and fill or overlay projects often involve grindings or rubble. These can be scheduled effectively in PlantDemand by copying an order and setting up an output material for Incoming Grindings or Rubble. Then, when you are scheduling the project's paving portion, save it and then open it again. Click the Copy button at the bottom of the order form. With the copied order, simply switch the material to Incoming Grindings and set the quantity to a negative number. This quantity won't be added to your daily totals, but will be on the calendar so that you can plan to have an extra loader operator and loader ready to help push up the grindings and get truck unstuck 😉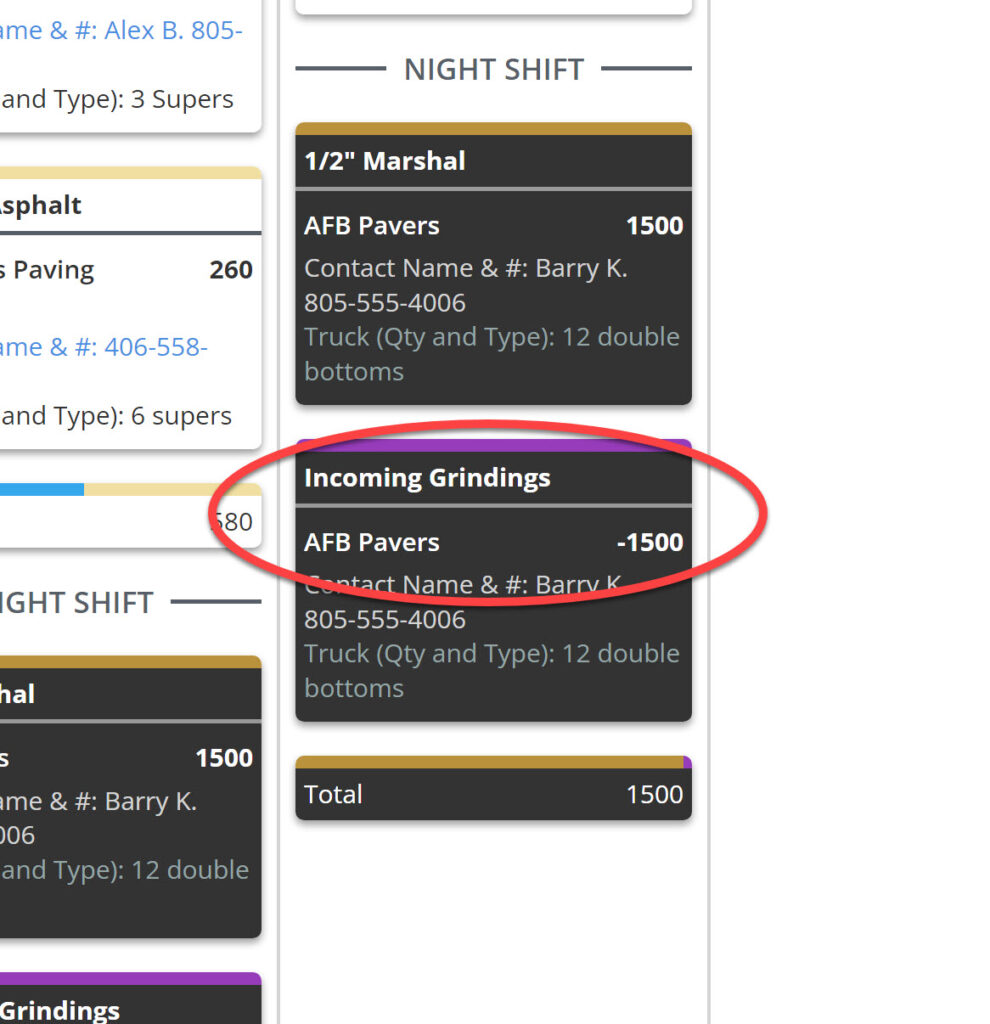 Help you Customers with Scheduling
Invite your paving customers to become involved in your plant scheduling. Go to Plant Settings, and then Customers. Select your customer and create a Customer Portal for them. This will allow them to submit requests for materials, see the status of their request, and stay on top of what they have scheduled with you. Additionally, they will do some of the initial work, and reduce a chance of an error when communicating their needs to you and you entering the order on their behalf. This might not be for all your customers, but you should try it with a few of your regulars!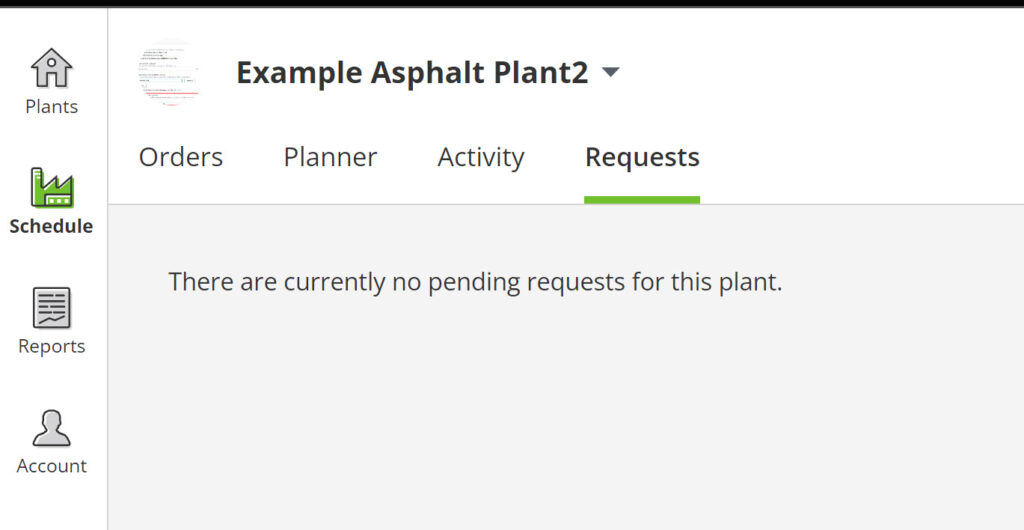 Where is your team?
If you've created a plant schedule but haven't invited your team to view it in PlantDemand, you're missing out on the collaborative aspect of the software. Team involvement is crucial for a holistic and efficient scheduling process. Invite everyone who has a hand in your plant. From Sales, to Managers, to QC, to loader operators and ground people — invite them so they can see what is coming up. And most importantly, the more eyes on your calendar, the greater chance that an issue will be identified earlier and a fix can be planned.
To add your people, to to the plant settings, then to Members. Add the new employee. They will receive an email invitation, and can sign up to be a part of your plant scheduling.
Asphalt iOS & Android App
PlantDemand also offers a mobile app for both iOS and Android devices. This lite version of the software allows users to manage their plant schedules on the go, ensuring that they are always up-to-date with the latest information. Once you have your plants setup, make sure to go to the App Store and download the app on your phone or tablet. PlantDemand works great on mobile browsers as well like Safari or Chrome, so if you need the full version of PlantDemand while on mobile, use a browser. And if you want just a simple version to check the schedule, or add or edit orders, try the app!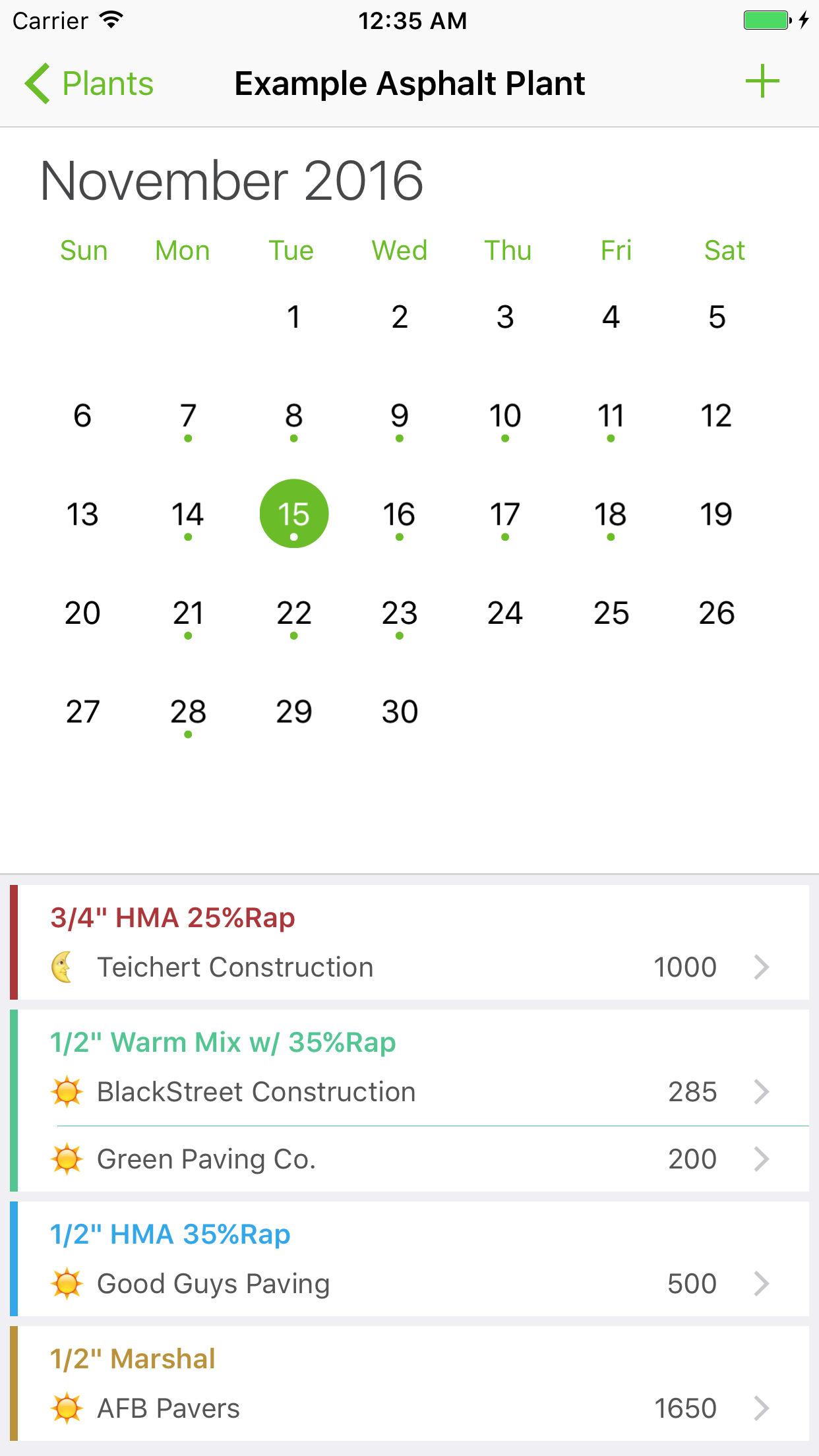 ---
Conclusion
By understanding and utilizing the full capabilities of PlantDemand, asphalt plant managers, sales, and operations can significantly improve their scheduling efficiency. This not only streamlines the operation of HMA plants but also leads to cost savings and reduced inefficiencies. Embracing all the features that PlantDemand offers is key to maximizing the potential of your asphalt plant operations. For more help, a demo or to submit suggestions, click the Help button and send us a message.