PlantDemand is the most efficient planning and forecasting tool for asphalt, concrete and aggregate plants, making the lives easier for everyone from operations staff to management.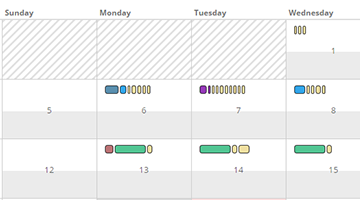 Shared live calendar
The order calendar creates a central authority for your entire team. Eliminate custom shared spreadsheets, and reduce redundant communication inside your team. Bring your team together in one easy, user friendly, powerful and shared place.
Real-time data-analysis
Accessing valuable reports becomes faster and easier. With the ability to run reports against your actual sales or your forecasts, you can develop long term strategies, track how you are performing against your goals and build short term action-plans.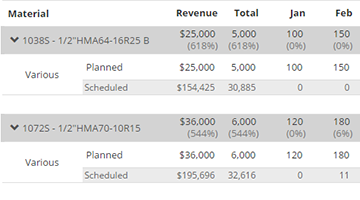 Material demand
Notifications about changes in inventory and scheduling ensure visibility throughout the supply chain. Your team, customers and suppliers are always aware of what's going on.
Empower your operations, sales & quality control teams
Powerful, quick and simple tools support the operational aspects of your manufacturing facility. PlantDemand's tools are developed and tested to support your team, including plant operators, managers, sales and quality control, and to keep suppliers and customers in the loop.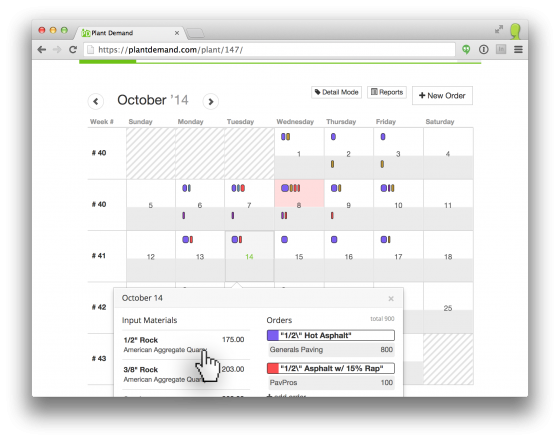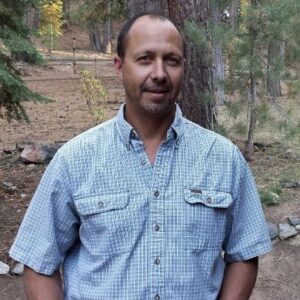 Everything is easy to follow, especially the daily details and the different color codes for mixes. This is very helpful for the plant foreman and plant operators.
- Ziggy Vogelsberger - Plant Manager at Truckee North Tahoe Materials
PlantDemand is a great app, we don't know how we lived without it before, we use it for sales, production, QC scheduling, shop fueling scheduling and more. We are pleased with the help it provides for us, I hope that other regions are using it too.
- Alvaro Montemayor, Granite Construction Arizona
PlantDemand gets my whole team working together, to plan and identify issues well ahead of time.
- Daniel Mekis, Granite Construction, Santa Clara CA
Avoid conflicts & issues
Cloud monitoring, alerts and reports enable continuous improvement and insights into your operation. Seamlessly identify problems such as plant overbooking or having too many material types scheduled for a day.
A real-time order calendar
Replace spreadsheets and appointment calendars to see what's going on at your plant in real-time.
Flexible permissions management
A thought-out permission system ensures that your data is safe. Control who edits which data and feel protected, knowing that customers and suppliers only see the information they need.
Reporting and forecasting
Planning tools go beyond your day to day operations, they can also create revenue and material forecasts. Summary views let you look at more than one plant and track the performance of the entire region.
Optimized for mobile
Is your sales staff on the go? PlantDemand also works great on mobile devices including the iPhone and iPad.
Customer portal
Invite your customers to a private portal to gather initial information about plant opening and availability, and for directly making material requests and inspecting orders.